[ad_1]

In theory, voters accept that their politicians need breaks, and even hobbies. We allow them holidays (as long as they don't lie about them, and as long as the vacation doesn't coincide with a moment of great national peril). We allow them sport – a football match on a Sunday, or a carefully staged photo-op in team colours, watching the game from an office television, not too far removed from the levers of power.
Last week Prime Minister Anthony Albanese was cheered on as he chugged a beer at a Gang of Youths gig in Sydney.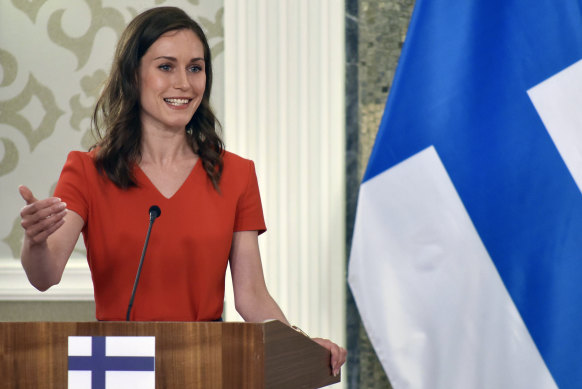 These activities are within the bounds of acceptability, and they tend to the masculine. Coincidence? Would we accept a prime minister who attended a fashion show instead of a footy match? Or a PM who showed her knees in a netball skirt instead of pasty pins in old rugby shorts? A PM who necked chardonnay rather than lager?
Julia Gillard was into knitting – what could be more harmless? Yet when she was photographed for the Women's Weekly in 2013, knitting a toy kangaroo for the impending royal baby, she was shredded for it. News Limited columnist Andrew Bolt said Gillard was "giving encouragement to young female politicians by plying a hobby now synonymous with mad old aunts". Nationals Senator Fiona Nash said it showed her "lack of connection to the Australian people".
Perhaps Marin's chief sin was the unproductive nature of her leisure. She wasn't making anything, or bettering herself in any way. She wasn't completing a marathon for charity, or cycling heroically up a hill, as former PM Tony Abbott did every morning he was in Canberra.
The way in which Marin let loose was a universally female experience – messy dancing with pals.
Australian author (and Canberran) Tabitha Carvan last year published a book titled This is not a book about Benedict Cumberbatch, in which she details her middle-age-onset passion for the Sherlock actor. Carvan concludes that the Cumberbatch obsession is less about Cumberbatch than it is about the necessity of finding something that gives her joy. She argues that the things women and girls go wild for, or even just the things that give them pleasure, are often denigrated.
I have marvelled at the way little boys perceive the extensive Barbie collection of my little girl, scornfully rejecting it as "girls' stuff". How is this contempt for the feminine absorbed so early?
But then, maybe the hot Finnish PM dancing scandal is not gendered at all. Maybe it's just that we are so unused to integrating joyful abandon into our daily lives that it makes us uncomfortable.
Joy is intensely personal – a rare state made possible by a cocktail of context and atmosphere, music and feeling, that only makes sense to the people who were present at the time.
Loading
It feels invasive to watch the footage of Marin catching some joy. Here she is, abandoning herself; here we are, observing through a cold lens, sizing up the situation for ourselves.
Can she have fun and also do her job properly? Marin swore she could. Most poignantly, she said that she, too, sometimes longs for "joy, light and fun amidst the dark clouds". Instead of judging her, we should laud her as a post-pandemic poster woman.
After the Spanish flu pandemic of 1918, the West got the Roaring '20s. After our lousy pandemic, all we get is a cost-of-living crisis, war, and the prospect of environmental collapse. The universe owes us some fun.
In December 2019, the work Christmas party went late. We danced until 3am at a bar in town. It turned out to be a final moment of abandon before the world locked down. I probably regretted it the next day. But I didn't regret it in the months and years afterwards.
On the contrary, I often return to the memory and congratulate myself on making what turned out to be a wise decision, a decision I resolve to keep making – to snatch joy, whenever it comes.
Cut through the noise of federal politics with news, views and expert analysis from Jacqueline Maley. Subscribers can sign up to our weekly Inside Politics newsletter here.
[ad_2]

Source link