[ad_1]

Squash NSW president John Small said the sport is growing overseas, including in the United States, and players would come back if councils invested in new facilities.
"There is an increasing appreciation of the enjoyment, convenience, physical and wellbeing benefits of the sport," Small said. "Working from home and flexible hours also makes squash attractive as it is easy to organise a game, at any time and whatever the weather."
As an indoor sport, squash can be played even on days of extreme heat, and is less susceptible to the heavy rain that has washed out many playing fields this year.
Squash was played by both men and women in the 1980s, but Small said female participation fell as centres aged and gyms became more attractive.
Small said there were only 37 squash centres remaining in the Squash NSW pennant tournament, down from 197 in the early 1980s. Many of the remaining centres have only two or three courts: too small for active school and junior programs.
"It's a simple matter of the value of land – particularly in metropolitan Sydney," Small said. "Private owners sticking with facilities have tended to see themselves as sitting on their superannuation, and when they no longer want to be in the business: a new owner can't afford to buy the squash centre, they'll always be outbid by the developers."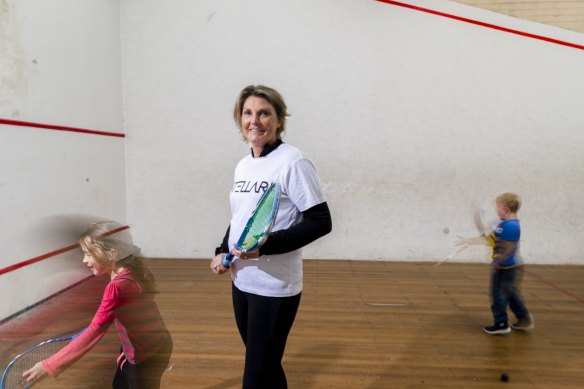 Small said the mindset of policymakers needed to change to see squash as a community sport, not a commercial one, with centres built on public land with public money.
He said other sports have received significant funding from federal, state and local governments, but no new squash centre has been built with government funding in the last 30 years.
He is hoping that will change – Squash NSW has submitted a proposal for the NSW government's $2 billion WestInvest Community Project Fund for 15 LGAs across western Sydney. The peak sporting body has proposed four new centres in Campbelltown, Camden, Blacktown and the Hawkesbury.
Penrith Council is also looking for a grant for a large new multi-sport centre including squash courts under the program.
Small said modern squash courts have movable walls to allow the space to be used for other things such as pilates, yoga and Zumba classes. A six-court centre could take up the same space as less than two netball courts or two tennis courts.
LGAs with no squash courts at all include Burwood, Camden, Campbelltown (which has 62 netball courts), Canada Bay, Cumberland, Georges River, Hunters Hill, Lane Cove, Mosman, Penrith, Strathfield and Wollondilly, representing more than 1.2 million people. Blacktown, Fairfield, Inner West, Liverpool and Northern Beaches, Parramatta, Sutherland and Woollahra have a few courts each.
Loading
The squash centre in North Manly, where Martin plays, is one of the rare facilities on council land, but it is expected to be demolished.
It is not clear what will replace it. The neighbouring golf club wants to build its clubhouse on the site, and Squash NSW and Tennis NSW are working on a joint proposal for a combined facility.
A spokesperson for Northern Beaches Council said plans were yet to be finalised.
[ad_2]

Source link