[ad_1]

A motor neurone disease researcher who has made significant strides toward understanding the disease, even as he fights it himself, has been named winner of the Eureka Prize for Scientific Research.
Professor Justin Yerbury was diagnosed with MND in 2016. It has left him entirely paralysed. He uses a ventilator to breathe and his scientific papers – at least 35 in the past three years – are written using an eye-tracking system.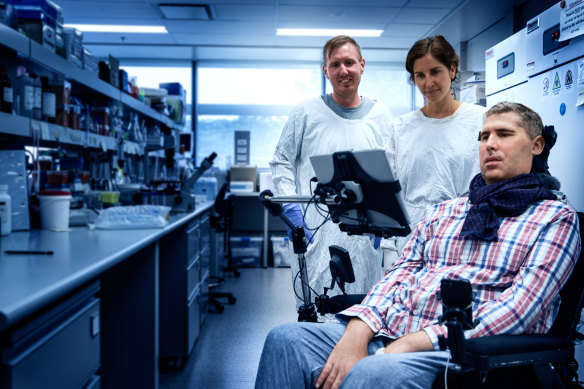 "There are over 2000 people living with MND in Australia today. The thing that unites us all is the hopelessness that an incurable disease brings. I want to change that," Yerbury said.
"I want a better life for people with MND and I want to make MND a treatable disease. I am not going to stop until I can say that MND is something that is not a hopeless case."
A faulty gene means the disease runs in Yerbury's family. In a six-week period in 2002, he lost his mother, grandmother, and aunt to MND. His University of Wollongong lab has taken major steps forward in understanding the disease, and they are now testing several potential treatments.
"He's basically the brains behind the operation. He just does not stop. The ideas keep coming and we help him carry them out," said Natalie Farrawell, Yerbury's senior research assistant.
"It's a constant struggle. Working alongside him, you can see how hard it is for him, but he's so determined to get his ideas out, to try to make a difference in the field."
Motor neurons in the brain and spinal cord control our muscles. Their instructions let us walk, speak, swallow, even breathe. MND is characterised by their slow breakdown. As they die, they take these abilities one by one.
About nine out of 10 cases are not inherited – the disease simply appears. Most people with the most common form of MND will die within five years of diagnosis.
[ad_2]

Source link