[ad_1]

The developers behind a tower planned for a highly visible site in the inner-Brisbane suburb of Newstead have sought approval for a dramatic redesign.
In documents lodged with Brisbane City Council this week, the KTQ Group, working with design firms Little Boat Projects and Bates Smart, has proposed a series of changes to approved plans for a tower on the corner of Breakfast Creek Road and Skyring Terrace.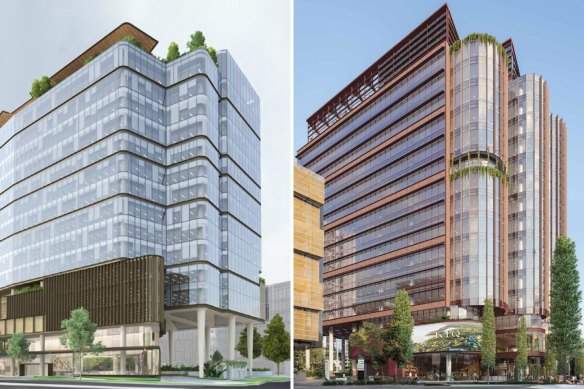 Under the changes, the foyer would be moved to the second floor, to allow for more public space around retail outlets on the ground floor, while office workers would have exclusive access to a new rooftop wellness centre and pool.
"The dramatic events of the last two years have certainly instigated a shift in the way people engage with the city and the way people relate to their workplace," state the documents submitted to council.
The ground floor changes would provide a better view of the nearby heritage-listed gasometer, while the sleek lines of the previous facade would give way to rounded bay windows and a more rust-coloured look through the use of red bricks and steel.
"The design provides a robust materiality that resonates the industrial history of the site," state the documents submitted to council.
"This robust material palette will stand the test of time and reflect the wool stores of Skyring Terrace as the street merges into Teneriffe, one of Brisbane's most intact neighbourhoods."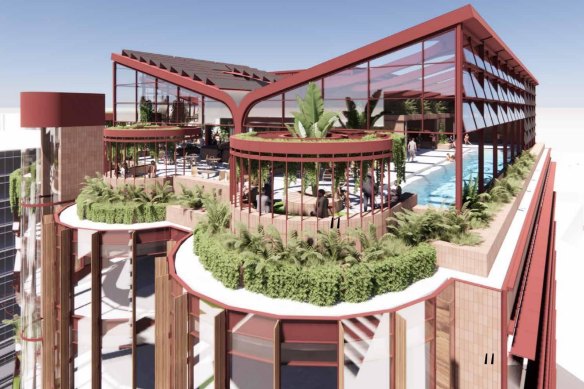 One of the most notable changes is the addition of a bold rooftop restaurant, instead of the food outlets originally planned for the ground floor. It will be open to the public, next to the new health facilities for staff, as the elevator shafts are moved.
[ad_2]

Source link