[ad_1]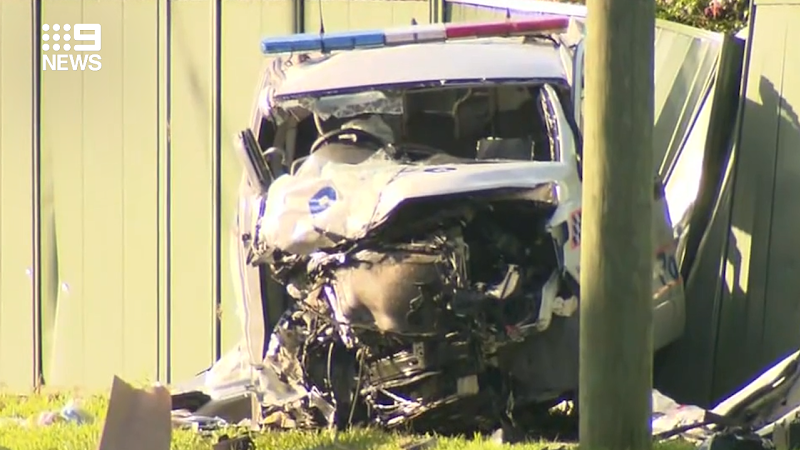 "Then I woke up to my lovely wife's face, that's the first thing I saw."
Senior Constable McKelvey has undergone almost 10 surgeries since, and has another one in a few weeks.
"I've got metal in every limb and my face now," he said.
"I broke both ankles, snapped both my legs in half, my face got all broken up. My left arm and right elbow were all broken as well."
Constable McBride Whitehead and Constable Cleary suffered far less serious injuries and were released from hospital a few days later. Both have since returned to duty.
A 28-year-old man was later charged with three counts of attempted murder, related to the officers, as well as dangerous operation of a motor vehicle, unlawful wounding and driving whilst disqualified.
Constable Cassidy Cleary said the three officers now call themselves "the trauma trio".
Despite being badly injured in the line of duty, Senior Constable McKelvey is keen to return.
"We all join the job knowing this is what can happen, I just got unlucky," he said.
"But I love the job, I wouldn't have got this support from any other workplace. I want to come back, and I still have at least 20 years to give to the Queensland Police Service."
Police Minister Mark Ryan and Police Commissioner Katarina Carroll met with the three injured officers on Friday at an event supporting the trio.
"People from the community of Caboolture and more widely Moreton, have shown tremendous support to these officers and their colleagues through this challenging time," Ryan said.
"Officers within the Moreton District have had more than their fair share of tragedy in recent years, but I am relieved to see that the health of these three officers is now improving," Carroll said.
[ad_2]

Source link