[ad_1]

Considering the low expectations generated by the small-target campaign that carried Labor leader Anthony Albanese to victory in the May federal election, his party's first 100 days in government have been remarkably lively.
Although the lessons learned from Bill Shorten's ill-fated expansive 2019 election agenda were key to Albanese winning the confidence of Australian voters who had tired of an intransigent Coalition government, Labor has emerged from nine years in opposition with broad and significant ambitions.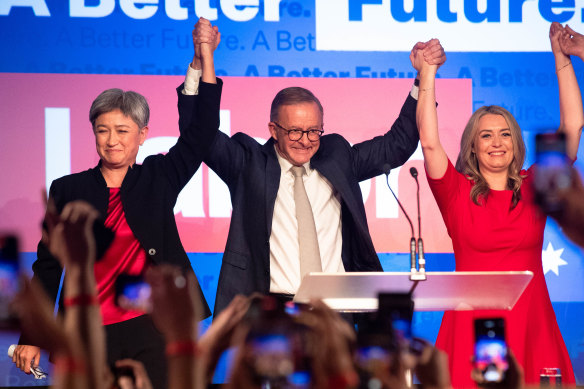 When Albanese opened his victory speech on election night with his commitment to the Uluru Statement from the heart, it signalled Labor's intent to embrace a national mood for change that also propelled a record number of Greens and independent candidates to Canberra. "I am here not to occupy the space," he said, "but to make a positive difference each and every day."
As much as that may have sounded like rhetoric, Labor wasted little time making small but symbolically powerful moves. The delivery of its promise to release the Nadesalingam family from years of immigration nightmares back to the community of Biloela, and its dropping of the prosecution of whistleblower lawyer Bernard Collaery in the Coalition government's contentious Witness K case, gave notice of a more compassionate approach to government.
The new government grasped a prime opportunity to hit the ground running when Albanese and Foreign Minister Penny Wong flew to Tokyo immediately after the poll and appeared calm and confident in reinforcing Australia's commitment to the Quad alliance with the US, Japan and India. Wong then burnished her credentials shadow-boxing her Chinese counterpart through a tour of the Pacific to contain the Solomon Islands crisis.
If Labor's more ambitious approach to climate change was an effective tool for Wong among island-nation leaders, the passage of laws enshrining the party's pledge to cut greenhouse gas emissions by 43 per cent by 2030 added to a sense of relief among Australian voters that here, at last, was a government responding to the planet's greatest threat after almost a decade of Coalition policy inertia.
As the Herald's exclusive Resolve Political Monitor survey yesterday revealed, 61 per cent of Australians support the government's climate target, only 18 per cent oppose it, and 44 per cent want the target to be a floor, while 16 per cent say it should be a ceiling. But this hunger for more dramatic action on climate change presents a challenge for Labor. Having appeased the Greens and teal independents by insisting its target is a floor, it has since approved offshore oil and gas exploration projects and faces continuing gas shortage pressures that will test its resolve and the patience of the crossbench.
Albanese's politically cynical early decision to reduce the staffing allocation for independents did not prove costly in the climate debate but it was petty and brought into question his commitment to "promote unity" and improve parliamentary standards. The agitation, though, can be expected to rise as teals and Greens increase pressure on the prime minister to dump his pre-election support for the previous government's expensive stage-three tax cuts.
That issue is part of a feral economic environment marked by huge inherited debt and the mutually problematic factors of rampant inflation and stagnant wages growth that are feeding cost-of-living pressures. Meanwhile, labour shortages and budget challenges will test Labor's capacity to deliver promised improvements to childcare and aged care.
[ad_2]

Source link