[ad_1]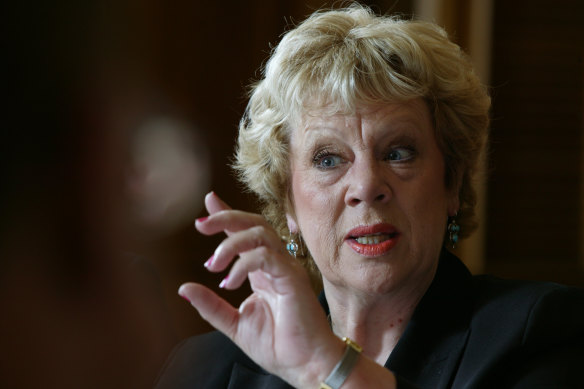 Bailey explains that Morrison "point-blank refused" to provide her or the board with any documentation or to answer questions about the $184 million taxpayer-funded campaign.
I first crossed paths with Bailey, who retired from federal parliament in 2010, during the aftermath of the Black Saturday bushfires. She represented the electorate of McEwan, covering Kinglake, Strathewen and so many other devastated communities.
In my bushfire coverage for ABC Radio Melbourne, and during the many years of the recovery, I developed a deep respect for her tireless work. But whenever Bailey was asked about Tourism Australia, she remained reticent. She would hint that she had profound problems with Morrison, but as he ascended through the political ranks, she would only shake her head and repeat "I'm gobsmacked".
Now, with the solicitor-general's report released, she wants to not just set the record straight but to add her voice to the chorus calling on Morrison to quit.
"He must leave the parliament. The Liberal Party has to prove to the Australian public that it has listened, it has got the message, and that it is prepared to adapt, just as society is adapting, and changing. It can't do that while Scott Morrison sits on those benches, and is a constant reminder of all of the awful things that happened during the Morrison government."
She is unmoved by the entreaty from her old boss, former prime minister John Howard, to avoid a byelection at all costs.
"John Howard has also said 'the public get it right', and the public have got it right about Mr Morrison. Yes, there will be a cost to a byelection, yes there is a possibility that a 'teal' candidate might stand, but it's an opportunity for the Liberal Party to show that it has the ability to move on from Scott Morrison … and, in fact, to have the gumption to preselect a strong, young professional woman who could do the best job for that electorate. He must move on."
Bailey is emphatic the Liberals must preselect a woman to replace Morrison whenever he leaves. She wants the public to remember his denouncement of former Australia Post chief Christine Holgate and his clashes with former Liberal MP Julia Banks, and is in no doubt that Morrison treated women differently. "He was vindictive and unpredictable – who would have thought a prime minister could behave like that in parliament."
Loading
Morrison was contacted for comment but did not respond.
After our interview, I escort Bailey to our front gate. As she unfurls her umbrella, she almost skips to her car. A load has lifted from her shoulders – a load that has been a burden for this retired politician for 16 years.
The Morning Edition newsletter is our guide to the day's most important and interesting stories, analysis and insights. Sign up here.
[ad_2]

Source link