[ad_1]

"Then we hope they slow down and notice the familiar faces and wonder about the people who they haven't met yet," she said.
Schapper said she was particularly pleased that photographers were able to capture images of workers at a local abattoir.
"We were very keen to have access to the abattoir because that's a large population of workers who are not necessarily seen in town," she said. "What's striking about them is the different ages, different colours. There are older women working there very hard."
On Wednesday night, the gallery will project portraits of residents who died during the pandemic onto a water tower in the town's main street in a ceremony set to music.
Schapper said the ceremony would hold particular significance for the town because many residents could not attend funerals in the past 2 1/2 years due to COVID-19 restrictions.
Averil Kennedy, who lives about 15 kilometres from Nathalia, submitted about 230 photographs to the exhibition.
She shot many individual portraits and people in their workplaces, including the staff at the local IGA supermarket.
Kennedy visited an aged care facility to photograph people who attended a planned activity group and who were generally happy to pose for photos.
"They were great to photograph. They've got very interesting faces," she said.
Loading
Kennedy photographed a man who worked in the timber industry in his dining room at a table he built himself.
The Nathalia Senior Citizens annual general meeting provided rich pickings and she shot 41 portraits there.
One man, whose wife had died suddenly, asked if Kennedy would take his photograph alongside a picture of him with his late wife.
This was among many intimate moments that Kennedy shared with her photography subjects.
"They clutch at your heart. You have to try and make sure you do a really good job of it."
When the exhibition is over, the people photographed will be able to take home the photos, which have been printed to A4 size.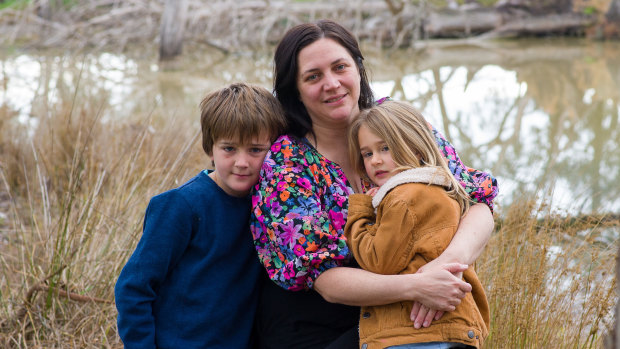 John Donegan, a former photographer for The Age who moved to Nathalia about two years ago, helped train the photography enthusiasts and contributed many shots himself.
"People are discovering there's a whole community out there they didn't know. In a small town, you think you know everyone," he said. "The community's more complex than it appears from the outside. That's been quite refreshing to see."
Donegan has worked as a photographer for 40 years, including 12 years at The Age. He also worked in Jerusalem in 1991 where he covered the Middle East.
He said the project in Nathalia had helped him to build connections and relationships in the town, and also brought great creative satisfaction.
"This project is just as incredible as any other work I've done."
The Morning Edition newsletter is our guide to the day's most important and interesting stories, analysis and insights. Sign up here.
[ad_2]

Source link