[ad_1]

Essentially, this gave researchers a lot of small self-contained groups, some wearing masks and others not, who were being regularly tested and isolating. A perfect group to study the effect of masks.
Here's the key graph from the results. R means the average number of new cases detected in a bubble each time a student fell sick. SAR stands for "secondary attack rate": the percentage of students who fell sick after an index case was discovered.
As students get older the R and SAR figures go up. An older child is more likely to spread the virus to their peers than a younger child.
Now compare bars for P5, the last year of pre-school, and 1, the first year of primary school. They are essentially the same.
This matters because grade 1 is when the Spanish school system starts requiring students to wear masks. If masks were making a big difference, you'd expect to see it showing up in the comparison between students in maskless P5 and masked grade 1. But you don't.
Indeed, the other two maskless years – P3 and P4 – have much lower rates of transmission than any of the masked years.
Residual confounding
Murdoch Children's Research Institute Professor Fiona Russell told me the Catalonia study is "the best study I have seen", on masks in schools. She would know – she has just finished chairing a World Health Organisation group that will set international guidelines for mask use for children.
Loading
But before people start using this to show masks don't work, let's be clear: that's not what the study says. It did not directly measure mask-wearing among students. Maybe (probably?) they don't wear them very consistently, or fit them well to their face. A teacher friend of mine tells me that only two members of his entire class are wearing masks today. The study does not account for that at all. It says mask mandates don't work.
Other than masks, what other differences are there between five-year-olds and six-year-olds?
Could school class sizes be different for different ages, ponders University of Wollongong epidemiologist Gideon Meyerowitz-Katz? The study tested the kids between four and six days after they had contact with their infected classmate; could younger kids simply clear the virus faster? Could a school be an easier place to transmit the virus than a kindergarten?
Is it possible any benefit from wearing a mask is cancelled out by spending all day sitting in a classroom with other kids? Such factors, which could explain the results of the study other than the thing the researchers are focusing on, are known as "residual confounding".
"That being said, it's a good study overall and I don't find the results surprising," says Meyerowitz-Katz. "Much stronger than the other research on the topic."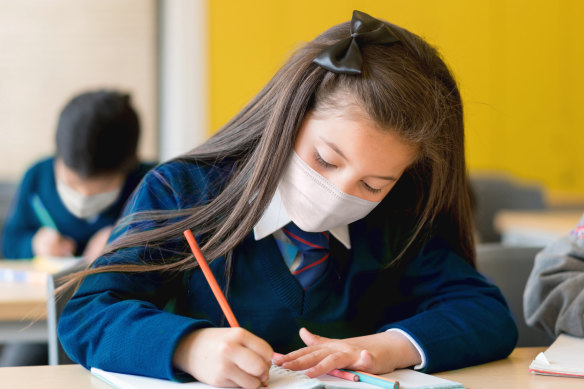 But Dr Zoë Hyde, an epidemiologist and school-masking advocate from the University of Western Australia, is unconvinced. "I don't find it compelling because it doesn't compare like with like," she says.
Fitting the pieces together
America's Centres for Disease Control and Prevention has long urged schools to mandate masking, based on three studies. But they all suffer a lot from residual confounding. The first study actually found no effect, the second did not control for vaccination rate and the third is just bad.
The key to analysing studies like this is to think of potential biases the researchers have not corrected for – factors that might cause "residual confounding".
This US paper on masks in schools is a great example. It finds when schools reopen without masks, cases go up more than when they reopen with masks. But … it also shows that adults living in counties without school mask mandates are much more likely to go to work or school, potentially spreading it themselves.
The cool thing about the Spanish study is it really isolates the effect of masks on transmission between kids at school.
Compare that to, say, this study that finds lifting masking requirements increases the number of kids who get sick. But it just looked at schools overall, did not have a mechanism for isolating kids from wider society, and the testing protocol is unclear.
Dr Nick Scott, head of modelling at the Burnet Institute, points out the Spanish study only covers kids up to age 11. Masks might be more important in older kids. "So we should be careful not to generalise these results."
Russell's view? "I don't think masks should ever be mandated in schools," she tells me. "There's no evidence mask mandates in schools make any difference."
Enjoyed this article? The Examine newsletter explains and analyses science with a rigorous focus on the evidence. Sign up to get it each week.
[ad_2]

Source link