[ad_1]

It's a sharp contrast to the crisis besetting the United States, where opioid overdoses have caused half a million deaths in the two decades since 1999, according to the Centers for Disease Control and Prevention. It began with the rise in prescription opioid use and subsequent overdoses in the 1990s, followed by a rise in heroin use around 2010, as prescription drug users sought their fix on the illicit market amid a regulatory crackdown.
A third wave, which sent overdose deaths skyrocketing, came in 2013 with the introduction of synthetic opioids, and in particular the rise of illicitly manufactured fentanyl.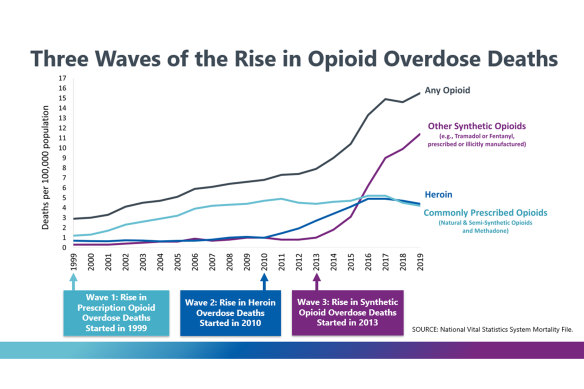 Drug overdose deaths in the US have quadrupled since 1999 – and the crisis hasn't slowed. From 2018 to 2019 alone, overdose deaths increased by 5 per cent, and those involving synthetic opioids rose by 15 per cent. Drug overdoses are now the leading cause of accidental death in the US, largely driven by opioids. In 2020, opioids were behind three quarters of 92,000 overdose deaths.
In the US and Canada, Ryan says, fentanyl has now overtaken heroin as the preferred drug of opioid addicts. But it's also often consumed accidentally, and with fatal consequences: combined not only with heroin, but methamphetamine and cocaine, when dealers cut those drugs with fentanyl.
It's not entirely clear why fentanyl is yet to make its mark on Australia, but Ryan suspects it's because "we're particularly a stimulant nation", and organised criminals have "made an absolute fortune" by focussing their energy over the last 15 years on methamphetamine, or "ice", and cocaine.
He's now deeply concerned that it's only a matter of time before fentanyl finds its way into Australian supplies of heroin, cocaine, ice and MDMA.
Ryan tells of speaking with a "shattered mother" in California only recently, whose 17-year-old son died at a party. "He thought he was having a line of coke, and it turned out it included fentanyl, and he died from a fentanyl overdose not intending to have any fentanyl whatsoever.
"There is a huge population of people who use drugs very infrequently, very occasionally, who don't take significant quantities of drugs, but one dose of fentanyl laced cocaine is enough to kill."
Hudson says the intended purpose of the bulk fentanyl imported to Melbourne remains "the subject of ongoing enquiries" and investigators "are unable to make an educated guess" as to what the criminal group behind it planned.
But it seems likely the drug would have been mixed with others for which there is an existing market. Nick Lintzeris, professor of addiction medicine at University of Sydney, says small business principles apply: If there's a demand for heroin but not enough can be imported, "you then start to put other drugs into it like synthetics".
Lintzeris doesn't see a fentanyl crisis in Australia as a fait accompli, but says heroin use has been growing and "we would be foolish to not be prepared".
But with "massive waiting lists for drug treatment services" that cost addicts money, and GPs groaning under pressure, Ryan says Australia is not at all prepared.
"There's a huge population of Australians who are not currently having their opioid dependency adequately addressed," he says, which means there is already a market for fentanyl.
Loading
Along with improving treatment access, both Ryan and Lintzeris want to see wider use of the overdose antidote naloxone. In July, the federal government launched its $19.6 million Take Home Naloxone program, which makes the drug available to people at risk of opioid overdose and their loved ones. Lintzeris says the program is a "ray of hope" but "still not as widely available as we want it to be".
In Western Australia, police began a 12-month trial in July for carrying naloxone – something Ryan wants to see in all jurisdictions. But he's frustrated that the government still appears to be "putting all our eggs in the law enforcement basket" and wants to see an overhaul of addiction treatment services as a priority.
A spokeswoman for federal health minister Mark Butler said questions about how the government plans to address the threat of fentanyl should be directed to Home Affairs.
Our Breaking News Alert will notify you of significant breaking news when it happens. Get it here.
[ad_2]

Source link