[ad_1]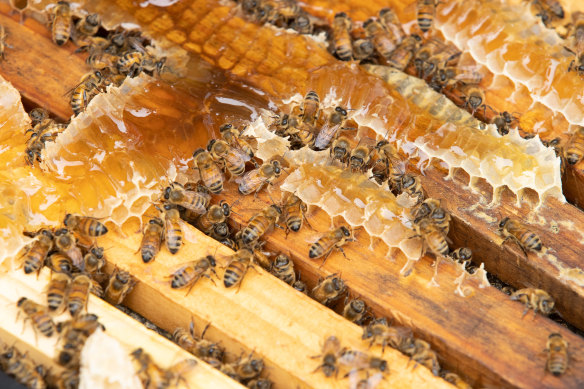 It is common for beekeepers to cross state borders to supply hives to fruit growers, so they can pollinate their crops. But Victorian beekeepers have been banned from bringing in hives or equipment from NSW due to the outbreak.Some are unable to retrieve hives they took to NSW before the outbreak was detected.
As a result, there are fewer hives available in Victoria to pollinate crops.
"They'll be in high demand and short supply," Crisera said.
Victorian Farmers Federation horticulture president Nathan Free said beehive shortages were beginning to sting.
He usually hires 15 hives to pollinate stone fruit in his orchard but has only been able to secure five this season.
"It's going to affect everyone in the supply chain," he said.
Meanwhile, the Bureau of Meteorology's outlook for the next three months shows a high chance of above-average rainfall across eastern Australia.
While heavy rain means farmers can save on irrigation costs, it can also damage ripening stone fruit, resulting in split skin. Stone fruit harvesting in Victoria generally starts in late spring and goes through summer.
Loading
Silver Orchards co-owner Rien Silverstein said sustained wet weather could cause fungal diseases for stone fruit.
"You've got to spray for it and the sprays are expensive," she said.
Silverstein said smaller orchards were most vulnerable to rising costs and some would have to cease production if consumers did not pay more.
Ardmona fruit grower Mitchell McNab said business was already unsustainable for many growers.
McNab, the chairman of Fruit Growers Victoria, said costs for growers had increased by up to 40 per cent due to price hikes in labour, fertiliser and fuel.
"The unfortunate reality is consumers will have to pay a percentage of that," he said. "If this increase doesn't happen there will be a large number of growers looking to exit quickly because it's not sustainable."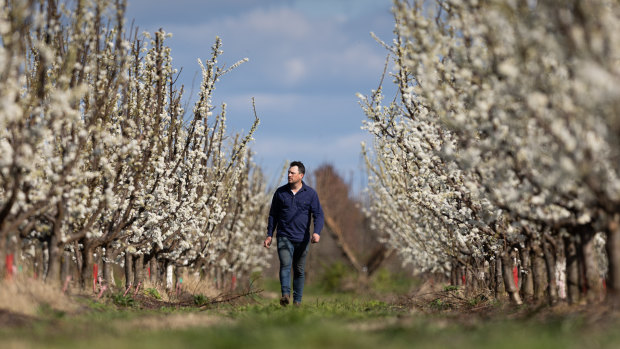 In its full-year results announced this week, Coles Group noted inflation had reached 4.7 per cent in the fourth quarter, driven by higher wheat and vegetable prices, although it said there had been deflation in fruits including bananas and grapes.
Woolworths boss Brad Banducci said consumers were changing their shopping habits in the face rising prices, choosing cheaper canned goods and opting for less expensive forms of protein such as chicken instead of beef.
Loading
Berries Australia executive director Rachel Mackenzie said the wet winter and labour shortages had created challenging conditions, particularly for blueberry growers.
She expected high prices for blueberries, which have pushed past $9 for 200 grams on supermarket shelves, would soon ease.
But Mackenzie said costs would increase for growers if varroa mite became entrenched across Australia.
"If it becomes endemic, pollination costs across the board could increase by more than 30 per cent," she said.
A guide to the environment, what's happening to it, what's being done about it and what it means for the future. Sign up to our fortnightly Environment newsletter here.
[ad_2]

Source link